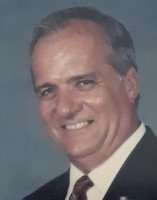 Donald Joseph Henri Desbiens
C'est avec grande tristesse que nous annonçons le décès de Donald Desbiens le 20 Mars 2019 au Centre régional de santé de North Bay. Il laisse dans le deuil ses enfants Luc et son épouse Mandy de North Bay, Chantalle et son époux Brian de London et Serge et son épouse Kelly de Peterborough. Donald était un grand-papa fier de Jordan, Alexander, Natasha, Zachary, Miranda, Nathaniel et Elia. Il était aussi un arrière grand-papa à Aurora, Clarissa, Genevieve et Wyatt. Donald fut prédécédé par sa chère épouse Pauline (née Lapierre) et ses parents Romeo et Germaine Desbiens de Gatineau, Québec. Il laisse dans le deuil son frère Ghyslain et Léna Desbiens de Gatineau, Québec. Il est aussi survécu par la famille de son épouse : Rhea (feu Cleo Lapierre), Alderic Lampert (feu Darquise), Viviane (Gaetan Leroux), Bella (Marcel Julien) et Stella (Maurice Ouellette). Donald a dédié plus de 35 ans à la fonction publique. Il s'est enrôlé dans le militaire en 1960 et a pris sa retraite en 1984 en tant qu'adjudant-maître. Au cours de sa carrière, Donald a été déployé à Chypre en 1964 et en 1979. Il a aussi servi en Allemagne à la garnison Rheindahien et à la garnison Soest. Pendant son temps en Allemagne, Donald a joué au hockey avec les Gahleean Smokeaters avec d'autres membres des forces armées canadiennes, ce qui lui a permis, ainsi qu'à sa famille, de voyager en Hollande. Après sa retraite, Donald s'est joint aux réserves au début des années 1980. Donald a aussi travaillé dans une variété de positions au sein du gouvernement fédéral. Donald occupait plusieurs rôles dans la ligue du hockey mineur où il vivait et il prenait grand plaisir à observer ses enfants et petits-enfants participer aux sports et au théâtre. Donald aimait bien le golf, particulièrement le tournoi du Bogey 5 animé par Earl et Sylvia Gagnon, qui ont chaleureusement accueilli Don et Pauline comme membres de la famille. Une célébration de la vie de Donald aura lieu le 4 mai 2019 au salon funéraire Martyn, débutant avec une visitation de 12h à 14h suivie d'une cérémonie à 14h. Au lieu de fleurs, la famille apprécierait un don à la Fondation de la recherche sur le diabète juvénile, une cause chère à Don et Pauline pour leur petit-fils.
It is with great sorrow we announce the passing of Donald Desbiens on March 20th, 2019 at North Bay Regional Health Center. He leaves behind his children Luc and his wife Mandy of North Bay, Chantalle and her husband Brian of London and Serge and his wife Kelly of Peterborough. Donald was a proud grandpapa to Jordan, Alexander, Natasha, Zachary, Miranda, Nathaniel and Elia. He was also a great-grandpapa to Aurora, Clarissa, Genevieve and Wyatt. Donald was predeceased by his beloved wife Pauline Desbiens (née Lapierre) and his parents Romeo and Germaine Desbiens. He is survived by his brother Ghyslain and Léna Desbiens of Gatineau Quebec. He is also survived on his wife's side by Rhea (Cleo Lapierre predeceased), Alderic Lambert (Darquise predeceased), Viviane (Gaetan Leroux), Bella (Marcel Julien) and Stella (Maurice Ouellette). Donald spent over 35 years in Public Service. He enlisted in the military in 1960 and officially retired in 1984 as a Master Warrant Officer. During his career, Donald was deployed to Cyprus in 1964 and 1979. He also served in Germany at the Rheindahien Garrison and Soest Garrison. When in Germany Donald played hockey with the Gahleean Smokeaters with other Canadian armed forces which allowed he and his family to travel and enjoy Holland. Once retired Donald then joined the reserves in the early Eighties. Donald also worked in various roles within the Federal government. During his free time, Donald had various roles in minor hockey where ever he lived and loved watching his children and grandchildren participate in both sports and theatre. Donald enjoyed the game of golf, especially Earl and Sylvia Gagnon's Bogey 5 family tournament who also opened their home to make Don and Pauline as part of their family. A celebration of life will be celebrated Saturday May 4th, 2019 at Martyn Funeral home, beginning with a visitation from noon until 2 pm followed by a service at 2 pm. In lieu of flowers the family would appreciate donations to Juvenile Diabetes Research Fund, a cause dear to Donald and Pauline because of their grandson.