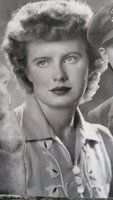 Beatrice Elizabeth "Bette" Harris
Beatrice Elizabeth Harris nee Lewis
Bette passed away March 7 peacefully
at Waters Edge Care Community with her daughters by her side.
Bette was born in North Bay November 30, 1925 to Elma and Herbert Lewis. She had sisters Rene,Jeanne,Dorothy and a brother Gordon. She is survived by her sister Dorothy Beattie in North Bay.
Bette was the adoring partner of her husband Roy Harris who predeceased her in 2015, the year in which they celebrated their sixty sixth wedding anniversary.
Bette was the devoted mother of daughters Lynne and Nepher, the loving grandmother of Gillian/Steve, Brie/Kraig, Colgan/Tabi and great grandmother to Yarrow, Frida, Fisher, River, Francis and Iver.
Bette lived her entire life in North Bay and participated fully in the community with activities such as Meals on Wheels, Canadian Club and Heritage Gardeners. She was also an avid bridge player with the same group of ladies for over fifty years. Athletic, Bette loved hiking, golfing, canoeing, and skiing. She was an avid birdwatcher as well.
Bette and Roy loved to travel and did so extensively. However their favorite vacation locale was their beloved Sheiling on the French River which has become a sacred family haven.
Bette will be thought of tenderly and missed greatly by her family.
Lynne and Nepher would like to extend their warm gratitude and high regard to the committed staff at Waters Edge Care Community.
Cremation has occured. According to Bette's wishes interment will be private and her Ashes will join Roy's at Terrace Lawn Cemetery.