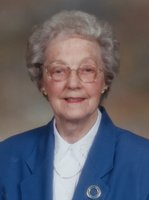 Mary Agnes Victoria Zufelt
With deep sadness, our family announces the passing of Molly (Kannegiesser) Zufelt on December 16, 2018, at the age of 100 years. Molly is survived by her daughter Karen, son-in-law George Killy, grandchildren Julia (Michael Serrano) and Geoffrey (Aki) Killy, grandchildren Ethan and Stella Serrano and Olen Killy, sister Dorothy Lalande, many nieces and nephews, and special friends, Donna (Brown) and Joel Pepin. She was pre-deceased by her loving husband, Earchman Zufelt, brothers Garnet, Gordon, and Herbert Kannegiesser, and Dr. Clarence Kenneger, and sister, Freda Vollrath.

Molly was born in Mackey, Ontario but lived the majority of her life in North Bay, a city she loved. After the premature death of her husband in 1960, Molly worked for many years as the cosmetician at Harris Drug Store on Main Street. Molly enjoyed helping her customers to choose make-up and perfumes and she was very proud of her customer's trust in her beauty advice.

Molly was a member of the Ferris Lioness Club and Trinity Church Friendship Group. She lived the latter years of her life at the Empire Living Centre, where she had many friends. She will be remembered by all for her loyal and reliable nature, her humour and sense of fun, her bright and lively mind, her wise counsel, and her love for her family and friends of all ages.

We miss her every day.

We wish to acknowledge the care and many kindnesses provided to Molly by the medical practices of Dr. Brian Shaw and Dr. Udow Oyeniran and by the staff of the North Bay Regional Health Centre, the Empire Living Centre and Blue Sky Personal Support Workers. We extend special thanks to Frances McParland, owner of Blue Sky Personal Support Workers, who was devoted to Molly's daily well-being and who became a special friend and trusted confidante.

According to Molly's wishes, a Memorial Service will be held in the spring and notice of the Service will be posted in the North Bay Nugget.