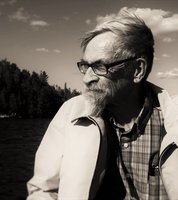 Joseph Henry Thomas Evans
Joseph Henry Thomas Evans
October 5 1941-November 17 2018
Joseph's two children Joe and Cynthia proudly remember their father who passed away on his own terms, at home, in North Bay, ON on Saturday, November 17th.
Predeceased by his parents Joseph H. Evans and Genevieve McManus, his sister and brother-in-law Elizabeth and Thomas Holmes, and his nephew Michael Holmes. He is survived by his two children Joseph H.C. Evans and Cynthia Roy (John), his three grandchildren, Geniveve Evans, Taylor Evans and Lina Roy, his sister Mary Catherine Summers (Craig) their children Clayton (Joni) and family and Erin Boring (Nicolas), his brother Tom Evans (Judy), Kym, Nicholas and Hannah and his nephew Tom Holmes (Rachelle), his first wife and the mother of his children, Beverley Evans (nee Keyes), his former wife Paulette Evans (formerly Richard nee Theriault), her children Lyne Kelly (Chris), Nathalie Cormack (Jeff), and her grandchildren Michelle, Stephanie, Garbrielle and Kyra Kelly and Abigayle Cormack.
Born in Cadillac (Rouyn-Noranda), Quebec, Joseph attended high school at St. Michael's College in Toronto, graduating from the University of Windsor in 1964 with a B.A.Sc. in Civil Engineering. Through high school and into university, summers were spent working at the mine back home, first for Barnat Mines Ltd., later East Malartic Mines Ltd. In 1966 he moved to Red Deer, Alberta where he married Beverley and where his son Joe Jr. was born. From there he moved his young family to the outskirts of Whitehorse, Yukon Territory, where his daughter was born. In 1973 he family moved to Stratford, ON where he worked for Gaffney Construction as office supervisor and manager. Stratford always remained dear to his heart as did the friends and colleagues he made there.
In 1979, Joe moved his family to North Bay, returning to his roots in mining, working for JS Redpath Limited as Senior Manager of Civil Engineering. He started his own mine engineering firm, Shelta Engineering Inc., in the early 1990s providing engineering, design and project management services to a long list of Canadian and international clients. Shutting down operations in 1999, Joseph continued to work as a consulting engineer and project manager until the age of 75.
Joe was proud of his family's history in the mining industry and indeed it was, and is, a family legacy. His grandfather Joseph J Evans had amongst various other occupations worked as the manager of the Cobalt foundry in the early 1900s. His grandfather TJ McManus had funded many mining exploration ventures. His father Joseph H. Evans, a mine engineer, was a graduate of Queen's University, and was Chief Engineer overseeing three properties, including Barnat and East Malartic. His son Joe Jr. is a shaft supervisor with Cementation, and his grandson Taylor is now working as a miner.
Joe was a remarkable man, proud of his ability to read people and able to recognize the skills and underlying potential in those he met; something he made great use of as a life-long project manager, able to bring together the individuals and skills that were needed to get each task done.
His family will remember him best for his love of blacksmithing, wood working, as a student of history, an amateur geologist, an avid woodlot owner, for his love of his Irish ancestry and his unique sense of humour which he passed to all three of his grandchildren. Joe kept daily notes marking events, the weather and his interactions with people. Although his children would say he was the consummate procrastinator, it was more correct to say that he was a methodical planner. He painstakingly researched each new area of interest, each project, each new venture, constantly drafting designs, taking measurements and planning. As such, he could always be counted on for thoughtful, measured council.
He was a resilient soul, coming to terms with personal demons, overcoming an earlier bout with cancer and making peace with himself and his place in the world.
Joseph was exceedingly proud of his children and grandchildren and was happiest when they gathered at his much loved 100 acre woodlot in Chisholm, ON.
As per his express wishes, there will be no funeral service. Joe will be interred early next summer at Boxwell Cemetery, Powassan where appropriately, you can just see his beloved woodlot in the distance.
In lieu of flowers, donations can be made in Joseph's name to Doctors Without Borders / Médecins Sans Frontières (MSF) Canada or Alcoholics Anonymous.